September 18th, 2013
Written by Kirk
---
How to Safeguard Your Financial Life
Several financial planners would agree that one of the
foremost and important steps that you should take to
protect your financial stability is to set aside funds
as emergency reserve. The concept that you have the
fund for emergency and unexpected events is enough to
help you stay away from using your credit card and
drown yourself in debt.
How to Get Started
Everyone must stash a little extra cash in case of
emergencies. However, how much money should you keep?
Although the topic of exactly how much money is needed
for your emergency fund is open to debate, the minimum
amount should be enough to cover your expenses for
daily living for at least three months. It is also
wiser to save for six months though most financial
planners agree on a full year worth of cash.
Your personal circumstances and what it takes to
provide you with a peace of mind are the elements to
help you determine just how cautious you want to be.
If for instance, you have well-off parents who have
always been supportive and willing to help you in a
financial crisis, an emergency fund for three months
will be sufficient. On the other hand, if you had
reach for you credit card for help and end up paying
15% in interest on the debt, you would be better off
saving enough money for your expenses that would last
for at least six months.
If by any chance you are thinking about where to place
your money, emergency fund, paying off the credit card
debt or funding your 401(k), you can always start with
your credit card debt. Next, you can contribute to
your 401(k). This step is especially useful since you
can later borrow money from your 401(k). However, as
soon as all those are finished, return to your project
of setting up your emergency fund.
If you do not feel like you are required to make your
entire funds this week, you can start like everyone
else. Begin by setting aside a monthly amount, like
for instance, 5% of your paycheck or other amount that
allows you to build one month's worth of living
expenses over the course of a full year. It is also
advisable and helpful to make this automatic. You can
do this by asking your bank to do an automatic program
for deduction from your checking account to your
savings account.
Additionally, monitor you spending habit each month
and always search for areas that you can develop. If
by any chance you receive a promotion, bonuses, or
other unexpected windfalls, always think about
including them to your emergency fund.
Where to Keep the Cash
Keep your emergency fund somewhere that is both easily
accessible and safe because you might be required to
get the cash in a hurry during emergencies. Remember
not to put your cash in the freezer but do not tie
them up together in stocks whose worth may have
declined by the time you need them.
The best option you have is to open a savings account
or money market account. However, always examine their
offer with regards to the minimum balance, interest
rate and other terms.
By time you think you have saved enough, learn how to
stop. You can now sleep easier and try to start
placing your additional saving into higher-interest
and usually less accessible investments or accounts.
Written by Kirk
---
Forex markets – trading internationally
Forex market trading is trading money, currencies worldwide. Most all countries around the world are involved in the forex trading market, where money is bought and sold, based on the value of that currency at the time. As some currencies are not worth much, it is not going to be traded heavily, as the currency is worth more, additional brokers and bankers are going to choose to invest in that market at that time.
Forex trading does take place daily, where almost two trillion dollars are moved every day – that is a huge amount of money. Think about how many millions it does take to bring about a total of a trillion and then consider that this is done on a daily basis – if you want to get involved in where the money is, forex trading is one 'setting' where money is exchanging hands daily.
The currencies that are traded on the forex markets are going to be those from every country around the world. Every currency has it own three-letter symbol that will represent that country and the currency that is being traded. For example, the Japanese yen is the JPY and the United Stated dollar is USD. The British pound is the GBP and the Euro is the EUR. You can trade within many currencies in one day, or you can trade to a different currency every day. Most all trades through a broker, or those any company are going to require some type of fee so you want to be sure about the trade you are making before making too many trades which are going to involve many fees.
Trades between markets and countries are going to happen every day. Some of the most heavily trades occur between the Euro and the US dollar, and then the US dollar and the Japanese yen, and then of the other most often seen trades is between the British pound and the US dollar. The trades happen all day, all night, and thought out various markets. As one country opens trading for the day another is closing. The time zones across the world affect how the trading takes place and when the markets are open.
When you are making a transaction from one market to another, involving one currency to another you will notice the symbols are used to explain the transactions. All transactions are going to look something like this EURzzz/USDzzz the zzz is to represent the percentages of trading for the percentage of the transaction. Other instances could look like this AUSzzz/USD and so on. When reading and reviewing your forex statements and online information you will understand it all much better if you are to remember these symbols of the currencies that are involved.
Written by Kirk
---
Team Trading the News and Managing Trades Net us 702 pips in 48 hours!
Clark W: "In the United Kingdom, a recovery appears to be taking hold. But the legacy of adjustment and repair left by the financial crisis means that the recovery is likely to remain weak by historical standards. CPI inflation rose to 2.9% in June and looks set to remain around that rate in the near term.
Against that backdrop, the Committee has provided some explicit guidance regarding the future conduct of monetary policy. The MPC intends at a minimum to maintain the present highly stimulative stance of monetary policy until economic slack has been substantially reduced, provided this does not entail material risks to price stability or financial stability.
In the Committee's view, a sustained recovery in both demand and supply appears likely. The outlook for growth is stronger than in May, mainly reflecting a marked improvement in business and consumer sentiment. This stronger demand is assumed to be largely matched by an increase in effective supply capacity, such that the outlook for inflation is similar to May, with inflation expected to fall back to around the 2% target over the forecast period."
Here is an example of how the USD and the GBP were affected by the news.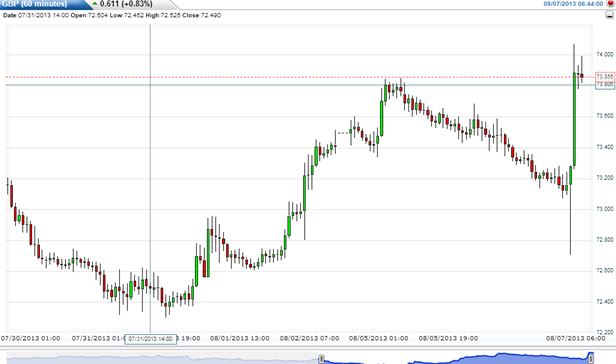 Here is the index compared
Many traders in the group reported weathering this news with some great gains, others were caught in draw downs.
I had 10 open trades that I intended to execute a decision and found that out of the 10 I had 9 positives and 1 negative.  I chose to close them all before retiring for the night.  I did have on account that 3 of those trades were being monitored by my European counterpart.  I informed her what I had decided and took the profits off the table but to watch for good placed to re enter some of these pairs.
At that time I had a daily gain of 658 pips by then open of the US session she had built it up to 702 not to mention the pips she took in her personal accounts.
Management is the key
Here is a rundown of the various pips sizes each trade was for Tuesday and Wednesday morning.
Account A:  77, 132, 49 = total pips 258
Account B: 14,16,-3,-2, 25,16,10, 17,43,-53,54,47,-73,26,36,26,-36,1,20,44 = total pips 228
Account C: 25,46,18,41,19,67 -total pips 216
Total Pips 702 within 48 hrs.
With careful planning and management was entered and exited these trades on a strict trading plan.  And in our team trading network. We see this kind of success throughout the month week in and week out.  Granted there are moments when we have lulls in the market and or we are not on our game but we see pips increasing our account sizes consistently.
Written by Kirk
---
We feel that there is only one thing worse than not using a stop loss and that is setting the stop to close to the entry price.  We really get frustrated when we set our stop the market moves against us, stops us out then moves in the direction we had originally planned.
There is an art to setting stops you need to be far enough away to let the market breath yet close enough that you do not lose too much.  Setting a stop to close can be the result of fear of losing too much, not having a clue where to place the stop or just thinking you need to cut your losses.
Inexperienced traders place there stops where many other traders are placing stops for example near the low of a move.  Their evaluation of the market can be correct but with a poor timing on the entry and setting the stop to close they are taken out.  When the market starts to move in the original direction the trader gets back in close to the place they had entered in the first place.
Trades that could have been winning trades are missed because of stops that are placed to close.  With a large number of small losses it lowers the total profit in the account so the winners are not as effective as they should be.  More stops will be hit if they are placed in the trading range where many other traders are putting their stops.
A trader may be a good trader but he will never make any money if he places his trades to close.  You can be good at picking the direction of the trade but by not giving the market enough room to move you will end up being a losing trader.
Sign up for a No Cost webinar designed to introduce you to the Nth Degree Stops
https://www1.gotomeeting.com/register/943396736
Jed and Kirk Norwood
Written by Kirk
---
We have just created a new entry level coaching program for those that come into our system as Jump Start users.
Below is a testimonial of one of our Jump Start users that just completed the very first coaching.
——————————————–
Here is my evaluation of the Jump Start Coaching session.
I watched the 8th Jump Start Coaching Course video that I missed due to an appointment yesterday, and it was EXACTLY what I needed to see! To take someone step-by-step through the simulated trading, showing where to begin, what to look for, and how to manage the trade was so instructive!
It helped pull together a number of questions I've had careening around in my head for some time, and clarified a systematic method to look at the market using the multiple time frames. As I mentioned in the final class today, I was able to place 16 trades in the past 24 hours, and 14 of them were winners. Over all I took profit of 161 pips with those trades. WOW! Now, I just need to do as Jed says, "wash, rinse, and repeat".
I think that a good understanding of the Jump Start system is a necessary foundation for all your other courses. If you don't have a good handle on those indicators and how they are to be used, the addition of more indicators can be overwhelming and confusing. The Jump Start Coaching Course helped me make order of that confusion.
Thank you all so much for inviting me to take this training. I would highly recommend it to anyone.
A Clemson
Thanks for your feedback on the Jump Start Coaching.
keep looking »